The recently rebranded Parker Wellbore is a specialist in drilling and well construction. Yet as the global economy embarks on a historic energy transition, president and CEO Sandy Esslemont explains how the 87-year-old company is moving towards a more sustainable future.
Sandy Esslemont took over as president and CEO of Parker Wellbore (formerly Parker Drilling) in March 2020 just as the COVID-19 pandemic was getting underway. He says that upon his appointment he saw a hugely experienced company which had recently restructured and was poised for success, but which his forty years' experience in the energy industry could lend a hand in streamlining the company for the future. In short, Esslemont saw the potential to take an already great company and make it even better positioned for the years ahead.
"I'd come up through the operator route with Shell and then basically jumped the rubicon to oilfield service and drilling technology," Esslemont told CEO North America in an exclusive interview. "Parker, as a company, played to all my strengths and experience, but in my due diligence it had kind of stagnated. They had just gone through the pain of restructuring so that was a good thing. I was coming in post-restructuring and a new board.
"The new board was strong. Experienced industry professionals. Corporate governance was strong, the balance sheet was strong, but one service was disconnected from the other. There was no marketing in the company so there was no real positioning globally, no messaging. Even in technology, there was tech in the company but it was buried in bureaucracy.
"You couple all that with what was a siloed organization and I saw a huge opportunity to reorganize and streamline a company which with the right leadership I believed could fully participate in the energy transition. All the key ingredients were there."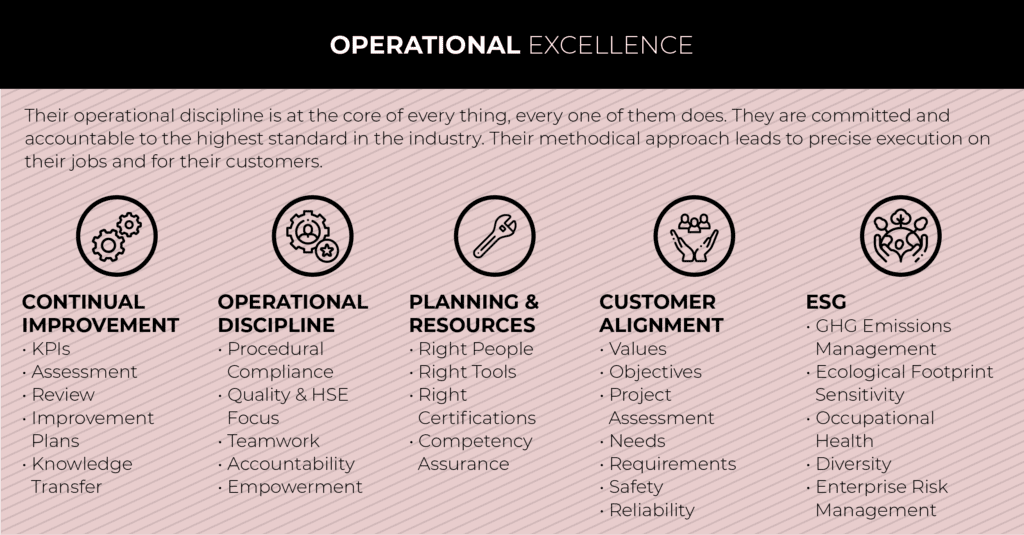 A FIVE-YEAR ENERGY TRANSITION PLAN
Founded in 1934, Parker Wellbore helps energy companies accomplish their drilling and production goals efficiently, reliably, and safely, by bringing decades of experience in harsh-environment regions and complex drilling situations. Since restructuring in 2019, the company has reorganized and rebranded from Parker Drilling to Parker Wellbore. "Since we reorganized as One Parker and rebranded as Parker Wellbore to get away from being pigeonholed as a drilling contractor, we've made great strides in terms of pushing forwards with our technology while all around constructing a more efficient Wellbore," Esslemont explained. "Customer focus is at the heart of everything we do. We're entering into some new markets that we weren't previously operating in. In these new geographies, we're able to bring our full range of expertise in drilling, operations & management and rental tools to new customers and markets. We believe in partnering with our customers, national and international energy companies and major oilfield service providers, to help them achieve their project and net zero goals. "We have a unique basket of services in the well construction space," Esslemont explained. "Even if you look across the oilfield services space, we often find that our competitors compete with us in one particular area of our services and there are very few, if any, really, that have that combination of the ability to actually drill, case the wellbore, and provide a lot of the key components that go along with construction. Our customer base is diverse as a result of that."
THE ENERGY TRANSITION
Parker Wellbore has traditionally worked in the oil and gas space, making wellbores for the extraction of hydrocarbons. Yet the energy industry has entered an historic transition toward clean sources of energy and net-zero commitments, and Esslemont is fully aware of the responsibility and potential for the company to thrive in this new era.
"We have a pragmatic approach to bringing decades of expertise in the traditional oil and gas business to being an upfront and central player in the energy transition by applying our expertise, knowhow and technical knowledge," he highlighted. "Accessing the subsurface for storage of new forms of energy will be key. Without the subsurface, we don't have a hope in hell of reaching net-zero with offsets by 2050. Parker will play a role in enabling that." "We believe that the subsurface holds utility over and above hydrocarbon and geothermal energy production so the subsurface for us—which we've spent the last 87 years tapping for oil and gas—is going to become a massive storage challenge for the likes of carbon sequestration, storing hydrogen, and even extracting lithium for electric batteries.
"All of these operations require wellbores. We're going to stick to that space and believe we can significantly grow our business. Our goal is doubling growth year on year in our energy transition business. We have 87 years of experience. We hold records in many places for the longest, deepest, most challenging wellbores in history."
ONE PARKER
The new restructured and streamlined Parker Wellbore, with its mindset of One Parker, free of the silos that Esslemont feels limited the company in the past, is poised not only to improve the efficiency of its operations, but also the wellbeing of the company as a whole. Esslemont believes strongly in taking a decades-old organization with a great history and building on its past experience to adapt to changing times.
"What we've done in terms of streamlining is not only limited to the wellsite," he insisted. "It's embedded in everything else we do, such as how we deal with stakeholders, how we deal with ESG. Socially, we're up there anyway, and from a governance perspective we're second to none. We have initiatives across all our operations that not only look at the nuts and bolts of the business, but also how we operate in society and how we treat our people."
A MODERN MINDSET
"We have a very collaborative, trusting and innovative culture," Esslemont elaborated. "We're tenacious, meaning we don't just sit back and accept stuff. We try to drive everything across the finish line. We have our own internal talent management system and we see the benefits of cross pollinating across these regions whereby somebody with experience in the Middle East suddenly finds themselves in Alaska. We see great benefits in doing that. "We have our ERP systems which are becoming more and more connected. We're big on in-person forum summits and team building exercises. We believe in productivity over presenteeism. We're trying to create an environment where people enjoy coming to work and can manage their work-life balance."
COLLABORATING ON THE FUTURE
Esslemont believes firmly in managing strategic external partnerships through close collaboration. He said he has close working relationships with the leaders of Parker Wellbore's partners at both the executive and CEO level, ensuring trust, goal alignment, and the greater likelihood of win-win situations in the ecosystem.
"I regularly talk to the CEOs of our strategic partners to make sure we have total alignment, to make sure that we do whatever we said we would do and that we can get more done with less," Esslemont stressed. "We have a global footprint and often, our strategic suppliers have international ambitions. If I'm being humble, we can learn from our vendors as well. They often see efficiencies that we don't. We have done geothermal projects for over 40 years and bring the necessary experience and expertise to geothermal customers, understanding these projects require specialization compared to traditional hydrocarbon wells," he concluded. "Sustainability and safety on those cost-effective wellbores is our DNA. We come with an international mindset as opposed to a U.S. mindset, and from a track record perspective we can demonstrate our prowess in that particular area."
Click here to read the full August – September 2022 Publication