For Andres Gluski, CEO of energy player AES, technology is the key to future success.
When Andres Gluski took over as president and CEO of The AES Corporation (AES) in 2011, the Arlington, Virginia-based energy company had a reputation as one of the best builders and operators of coal plants in the world.
Seven years later, amid rapid transformations within both the industry and the company itself, AES is a cutting-edge provider of all types of energy as well as a global leader in technology and innovation.
Indeed, this ongoing evolution was precisely the opportunity Gluski was attracted to when he first took charge.
I saw that AES was a rather unique company in terms of the markets that it covered," Gluski says. "It truly was an international company. And I saw a unique opportunity to really focus the company, make it more efficient, and also move it into leading technologies and integrate them into our operations."
AES is a Fortune 500 company that generates and distributes electrical power in fifteen countries and employs approximately 10,000 people worldwide.
In recent years, it has become a major energy provider in the likes of the Dominican Republic, where its battery-based energy storage arrays helped the island nation maintain power during Hurricanes Irma and Maria, and Panama, where it recently inaugurated a natural gas-fired generation plant and is building the first LNG terminal and regasification facility in Central America.
In 2017, AES enjoyed global revenue of $11 billion. Furthermore, amid a rapidly evolving energy landscape, Gluski feels that AES is in a perfect position to take advantage of the future of the energy industry in a changing world.
"We're growing our renewables business, not only in the States, but across the world, and we can really serve as a bridge to bring the latest technologies and market offerings from developed markets into developing ones… We're uniquely positioned to do that."
A new era in Energy
Gluski views the key advantage enjoyed by AES in its marketspace as its diversity of products at a time when the energy industry is rapidly being reshaped.
Excluding nuclear, AES provides all types of energy to its customers and Gluski emphasizes the ability of the company to look at what its clients need and choose the appropriate combination of products, with a growing emphasis on combining renewables and batteries.
"We are now the biggest independent solar developer and operator in the US, nevertheless, while renewables provide energy, they don't provide capacity. We're currently building the world's biggest solar plus energy storage project on the island of Kauai in Hawaii which will provide 24/7 renewable power. But in most places, that's not practical. e most advanced solution is to put in lithium ion batteries, which have gotten cheaper of late.
"What we can do is combine the renewables with our existing hydro, gas-powered and even coal plants, and that way we can provide the cheapest energy, but we can also provide the reliability of capacity," he explained.
AES has become a global leader in the use of lithium ion batteries in recent years to the ex- tent that its preferred design is now standard for many producers. Indeed, in 2017, AES partnered with Siemens to create Fluence, which combines AES' expertise in utility-scale storage with Siemens' global sales and engineering resources to handle commercial and grid-scale energy storage deliveries worldwide.
A global reputation
Gluski views AES' global presence as another key factor in setting the company apart from competitors.
For example, while growth for electrical energy demand in the US is currently stagnant as a result of the shift from coal to gas and renewables, markets such as Panama and Vietnam are growing at up to 7 to 10% per year, and AES has rapidly become the first mover in many of these countries.
Another area into which AES is rapidly expand- ing is that of natural gas, which includes a major presence in the Dominican Republic where it currently generates 40% of the country's electricity, saving the cash-strapped Caribbean nation half-a-billion dollars a year, a model that Gluski sees AES repeating elsewhere in developing markets, such as Panama, where in August it unveiled Central America's rst regasi cation plant.
Yet Gluski is quick to stress that none of this would be possible without a smooth-running, operationally excellent business organization which, since he took o ce, has embarked on a significant cost reduction program that has enabled AES to save $300 million per year.
This newly found efficiency has been enhanced by a 30% reduction in management staff and a 10% reduction in its wider global workforce.
The result is a company that Gluski feels is built to last within a traditionally unpredictable industry. "We control almost $40 billion in assets, and that's partly because we have a lot of partnerships with private companies around the world, and two large publicly listed companies, one in Brazil and one in Chile, under us (…) We also have strategic alliances with the Canadian pension funds. Each one of those represents hundreds of millions, or billions, of dollars of non-AES shareholder money, so we have to make sure that it's a win-win for everybody."
Looking to the future
Gluski says that a key challenge for AES over the next year and a half is continuing to introduce a digital strategy that he believes is the leading such initiative in the sector.
According to Gluski, this will not only enable AES to advance in the area of energy storage, but also areas such as drones, predictive maintenance, commercial operations, and ultimately, the tailoring of its offerings to client needs.
"We've spent a lot of time cleaning up our data and standardizing our accounting and reporting. The first thing we did was invest in a digital company called Simple Energy which provides an interface for energy saving devices for big utilities in the US, which in turn represent tens of millions of customers, so we have a good base from which to build going forward."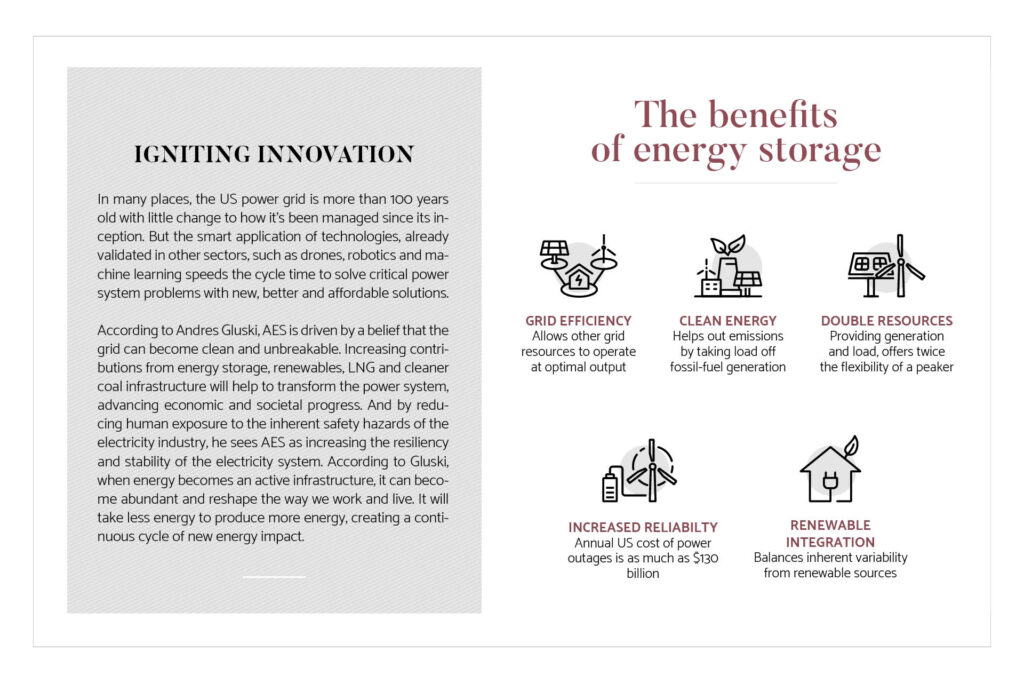 The same philosophy of onward-looking transformation is present in AES' approach to procurement which is highly centralized and also takes into account changing market dynamics amid ongoing uncertainty over the future of global trade.
With operations in 15 countries, we're making sure that AES gets the most for the dollars it spends by creating harmonized processes, standardizing equipment and services, focusing on demand aggregation and leveraging economies of scale," said Evaristo Leonardi, VP of Global Operations Support for AES. "Our goal is to gain full visibility into what we need four to ve years out so we can optimize our commercial relationships with our key suppliers using leading practices and technology.
"We're standardizing the equipment that we use because we really have to pool the needs across our business pool our demand, we work with our suppliers." Gluski points to AES' longstanding relationship with Korean company Posco E&C, with whom it has collaborated on plants in Chile and is currently working on the LNG regasification plant in Panama, as an example of such cooperation. rough close collaboration with AES on a number of projects, Posco was able to become an international player in its own right with several billion dollars' worth of projects underway around the globe.
"With so much change taking place in the world, I don't think any one company can have all the know-how it takes to be at the forefront of technology in their sector, but by partnering with service providers, construction companies, and equipment suppliers, we can provide a unique insight into different applications and client needs, and we in turn have to look at what our clients are asking for. "I see the future of AES as bringing new technology to all the markets in which we operate, and we can't do that alone."
As such, the moves AES has undertaken to restructure its organizational model and embrace technology are part of a broader process that Gluski believes is necessary to face ongoing challenges in an industry and wider world that continue to change rapidly.
"We're much leaner as a company in terms of head count and overhead, and we're also much better in terms of dealing with risk from weather to commodities, and that's being reflected in our credit ratings. What's also exciting is that we're on track to become investment grade by 2020. We've significantly de-risked the company by selling assets, by changing our commercial strategy.
The good news is that we can continue to reduce costs and modernize, and still have a significant growth pipeline that we've shown is profitable."