CEO James M. Loree discussed with us the opportunities that await for Stanley Black & Decker in the near future.
How do you ensure that a company that has lived through three industrial revolutions maintains its success into the fourth? That was the question facing James M. Loree when he took over as CEO of Stanley Black & Decker in August 2016.
With seventeen years' experience in the industrial tools and household hardware industry, Loree saw an incredible growth story in the company that he not only intended to continue, but also accelerate. Upon taking charge, Loree announced what he called his "22/22" vision, based on a fundamental goal of turning the company into a $22 billion enterprise by the year 2022.
"A lot of folks have asked me why I would put such an ambitious goal out there," he says. "But I'm very confident that we'll achieve that."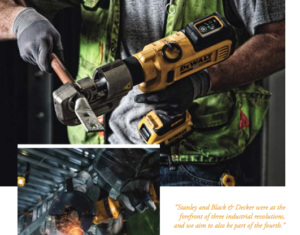 Upon taking over at Stanley Black & Decker, Loree already knew the rm well having started out as CFO of Stanley Works in 1999 prior to its historic merger with Black & Decker in 2010. Stanley Works was founded as Stanley's Bolt Manufactory in New Britain, Connecticut, way back in 1843 while Black & Decker was established in Baltimore, Maryland, in 1910. "That's an important 175-year history to build upon," Loree said of the merger, which resulted in the birth of a dynamic new $8 billion corporation.
Stanley Black & Decker manufactures some of the best-known and reliable industrial and home power tools in the world through leading franchises such as DeWalt, Irwin Tools, and Craftsman.
In 2017, its revenues totaled $13 billion with above-market organic growth, a record 14.8 percent operating margin, and top-quartile value creation for shareholders with above 50 percent total shareholder return.
Loree was Chief Operating Officer of Stanley Works at the time of the historic merger and, alongside his predecessor, John F. Lundgren, was a key architect of many of the strategic moves the company made during the early twenty-first century. Yet upon becoming CEO, he was determined to take things to the next level.
"One of the first things I articulated was our 22/22 vision, through which we intend to double the size of the company within the next six or seven years," he said. "I asked how we could evaluate our past success and look at what we were building to help us define a purpose that represented the company. I found this to be a really intriguing exercise."
Forging a vision for the future
The key themes that Loree emphasized were boldness, a willingness and determination to confront challenges, a sense of reliability and accountability, and the creation of a collaborative culture in which employees worked together for the greater good.
For Loree, the key message to summarize the mission of the company was: "For those who make the world." "It's actually a very humble statement because, above all, Stanley Black & Decker is about the people that we serve," he explained.
Stanley Black & Decker currently has an organic growth objective of between 4 and 6 percent per annum with a total growth objective of between 10 and 12 percent.
Loree views the company's future as a blend of innovation-driven organic growth and acquisitional growth, which includes a desire to continue to build on their well-known franchises and potentially add more along the way. "We have a tried-and-trusted value creation model that builds franchises and then reinvests in them," he explained. "That takes up about half the cash that we generate, and the other half we give back to shareholders."
Driving growth is an operational system that Loree calls the Stanley Fulfillment System 2.0 (SFS 2.0), which consists of ve major elements: Digital Excellence, or the intention to drive an ambitious digital transformation across the company; Breakthrough Innovation, through the creation and deployment of specially assigned innovation teams; Commercial Excellence, focusing on raising performance levels in customer and end-user-related activities; Functional Transformation, consisting of a constantly evolving company culture; and Core SFS, which focuses on operational excellence.
For example, Loree has created ten Breakthrough Innovation teams that are distributed throughout the company and exclusively dedicated to coming up with new ideas. "These teams are groups of between ten and twelve folks who have been taken offline from the main business and given the opportunity to come up with game-changing ideas," he said.
"Whatever they choose to focus on, it has to have a revenue potential greater than $100 million per annum. These groups have been out there for a year or two now, and we expect that they will create additional growth momentum as time goes on.
"We want to be known as one of the world's great innovative companies, which is a very big aim in the context of the kinds of companies that are known as great innovators today," Loree said. "But we have a great tradition of innovation here. Stanley and Black & Decker were at the forefront of three industrial revolutions, and we aim to also be part of the fourth."
Loree also has a strong personal belief in what he calls corporate social responsibility, an idea that he believes has been neglected in recent years but which he feels is key to establishing a positive company culture.
"This is something that I really hold in high regard because there's a transformation going on in society, mostly due to the accelerated pace of technological change, which is making it difficult for governments to respond effectively to the needs of society," he said. "I believe that corporate leaders need to step up and be a force for good in society."
The importance of strategic allies
Key to Stanley Black & Decker's success in recent years has been building a reliable and dynamic supply chain. "We centralized procurement a long time ago and what we've done over the years is just to continuously improve it, so that we're always benchmarking ourselves against what is world class," Loree explained. "What we're finding is that, in procurement, the key initiatives that are driving value today are generally related to advanced analytics.
"There's also a technique I learned back in GE, when I worked for them years ago, which is called two-plus-one," he added. "It amounts to always having three vendors for every major product or commodity that we purchase. We give those two vendors the lion's share of the business, but then have a third that is willing to step in and become more aggressive."
"The labor cost per unit reduced [through the employment of technology] won't change the size of the workforce dramatically because the output per person will go up, meaning we have to buy less from abroad," Loree said.
"We have a philosophy of 'Make where you sell.' Our goal for the future is that of the tools we produce, up to 60 or 70 percent will be made in the U.S. If you're a tradesman in the U.S., the odds are you want to buy U.S.-made tools."