Dr. Keh-Shew Lu
Chairman, President, and Chief Executive Officer
"The semiconductor manufacturing process is so complicated it involves the fundamental knowledge of physics, chemistry, mathematical logic, precision machinery, and materials science."
Diodes Incorporated is a leading global manufacturer and supplier of semiconductors for the consumer electronics, computing, communications, industrial, and automotive markets. The company produces over 29,000 products and serves over 50,000 customers.
Diodes, Incorporated Chairman, President, and CEO Dr. Keh-Shew Lu has worked in the semiconductor industry for nearly 50 years. He started his career at Texas Instruments (TI in 1974 and rose to serve that Company in various managerial and senior executive capacities. He joined Diodes' board of directors in 2001 and came on board as its President and CEO in 2005.
In addition to his work with Diodes, Dr. Lu is also a board member of both Lite-On Technology Corporation and Nuvoton Technology Corporation. He is the founding chairman of the Asian American Citizens Council.
He holds a bachelor's degree in electrical engineering from the National Cheng Kung University in Taiwan and a master's degree and a doctorate in electrical engieering from Texas Tech University, and recently received an honorary doctorate from Cheng Kung University.
Reflecting on his time at TI, Dr. Lu says, "I was very fortunate to work with Morris Chang, the founder and former chairman/ CEO of Taiwan Semiconductor Manufacturing Company (TSMC). He had a huge influence on my career, and I went to him for guidance on many occasions. I worked under his leadership for a decade at TI. He always told me that, as a manager, it was vital to set a clear direction and goals for my team. Then find the best way to drive your team to accomplish those goals, and do not accept any excuses." Applying that guidance has served Dr. Lu well.
Under his leadership, Diodes Incorporated has flourished. "Prior to my appointment as President and CEO, Diodes was relatively small, with revenue of about $186 million and a market cap of only $159 million."
Dr. Lu says. "My own experience told me that The company had to have enough market cap and revenue to survive."
When Dr. Lu was elected as Chairman of the company in May 2020, he created this new corporate core value statement: "Integrity, Commitment,and Innovation."
Based on that insight, Dr. Lu committed to building the market cap to $1 billion in 5 years, which he accomplished in 2010, while building the revenue to S1 billion in 10-12 years, which he achieved in 2017. The semiconductor industry is highly competitive and operates with exceptionally high fixed costs.
Dr. Lu knew he needed more than organic growth to meet those ambitious revenue goals. "For most semiconductor companies, the typical average growth rate is probably 7 to 8% annually," he explains. Working with UBS, we initiated the secondary offering followed by issuance of a convertible bond to the financial market to garner more capital. His plan yielded results. Since 2005, Diodes has acquired nine companies or divisions of companies that have bolstered its product offerings, global presence, and manufacturing footprint. "If we go back to check the progress to today." Dr. Lu says, "Our revenue is on a run-rate to reach $2 billion for the full year 2022, so it has almost doubled since 2017. We started from about 34% gross margin in 2017. In 2022, we expected gross margin to reach about 41%." The company's impressive gross margin expansion is due to its product mix improvement efforts over the past several years Dr. Lu explains that Diodes' market focuses on high-growth, end-user applications in five areas: Automotive, Industrial, Consumer Communications and Computing.
After analyzing those five areas, he focused intensely on two: Automotive and Industrial. "Our Automotive business has grown very fast," he explains. This growth is because a typical vehicle may have up to 100 electronic control units (ECUs) embedded in systems including those governing engine, transmission, active safety, illumination, passenger comfort and infotainment. "The gross margin for our Automotive products is much higher than in Consumer, Communications, or Computing. Today, over 15% of our revenue comes from Automotive. So out of the $2 billion revenue, $300 million comes from Automotive."
Industrial applications include embedded PCs, which have to be more robust and durable than other PCs, Motor Control applications, and chips to run Smart Grid and Energy Systems. Dr. Lu and his team set a goal for Automotive and Industrial revenue combined to reach 40% of Diodes' total revenue by 2025. The company has already achieved two consecutive quarters above that target.
"Diodes made it a top priority to focus on revenue growth, gross profit, and gross margin improvement to reach our 2025 goals of $1 billion in gross profit using a model of $2.5 billion revenue and 40% gross margin," he says. "Looking back over the past two years, as of the third quarter of 2022, our quarterly revenue has grown 68%, gross margin expanded 590 basis points, and adjusted earnings per share increased over 220%." A key factor to Diodes' ongoing success has been its content expansion initiatives and total solution sales approach, resulting in expanded customer relationships and increased design win momentum.
By the end of the third quarter ended September 30, 2022, Diodes announced its fifth quarter of record gross margin and the seventh quarter of record revenue and adjusted earnings per share. The company will announce its fourth quarter and full year of 2022 on February 6, 2023. Because Dr. Lu's strategic focus helped The company meet its 2025 gross margin goal early, he intends to continue on that course for the next three years to achieve the next goal in his plan of $1 billion in gross profit. Acquisitions and diversifying the business is a significant part of the growth strategy.
SUPPLY CHAIN ADVANTAGE
The global pandemic made the past two years the most challenging supply chain environment the semiconductor industry has ever experienced. Yet throughout that historical time, Diodes consistently proved its ability to execute and prosper.
To fully appreciate the complexity of the supply chain situation, it's important to note that "chips" is not a generic category. Various semiconductor chips (memory, logic, mixed signal, power semis, and other variations) are manufactured for many different end markets. Each type of chip may require different wafer sizes and process technologies, materials, facilities, equipment, design tools, and more.
"Be aware of new developments. Things are constantly changing. With technology developing so rapidly these days, new windows of opportunity are opening up all the time."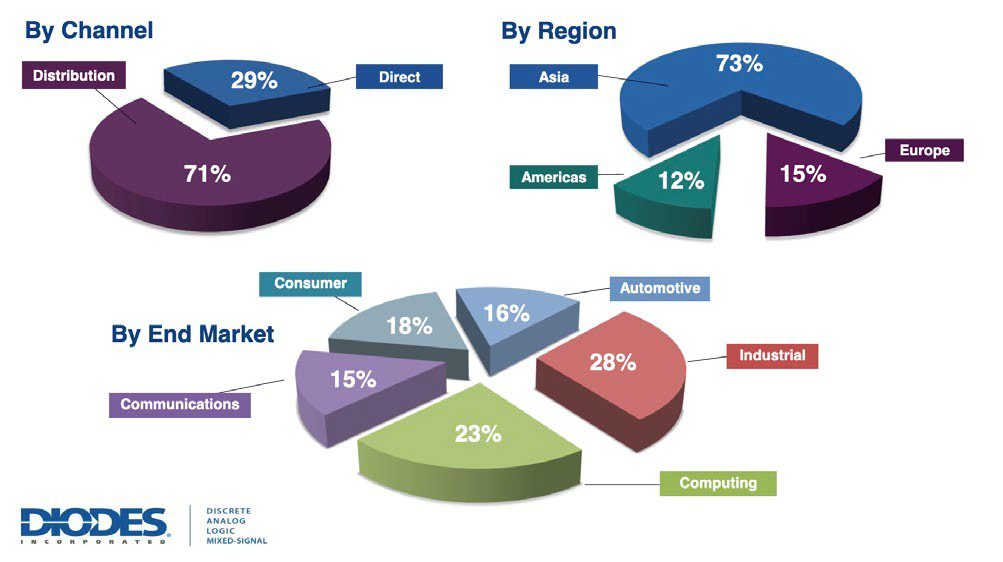 "We have a solid pipeline of designs and expanded customer relationships across all regions and product lines."
"We were able to take advantage of the shortage to support our key customers." Dr. Lu says. "Instead of raising our prices, we were able to get long-term agreements from our key customers and, at the same time, establish a presence in areas where we hadn't participated in the past."
The company's global footprint gave it a significant strategic advantage during the pandemic. The company has manufacturing and assembly facilities in China (Chengdu, Jnan, Shandong, Shanghai, Wuxi), England (Oldham), Scotland (Greenock), Germany (Neuhaus), Taiwan (Hsinbei, Keelung, Hsinchu), and the U.S. (Maine). An array of diverse and responsive manufacturing operations is a core element of The company's success. These manufacturing operations are supported by administrative, engineering sales, warehouse, and logistics offices in many locations around the world. Dr. Lu says that having many product families was an excellent hedge against supply chain problems.
"We are multi-sourcing and second sourcing, and therefore we can support the product from different sites." Dr. Lu explains. "Here's one straightforward example. When Covid hit China, Shanghai had a Covid shutdown, but we were able to get the majority of product from Chengdu." He went on to cite many similar examples of this effective strategy. Dr. Lu explains that he regularly meets with key suppliers to identify our needs and discuss their long-term strategies.
CLOSE, TRANSPARENT CUSTOMER COMMUNICATION
Dr. Lu says he believes that Diodes' close relationships with its customers have provided The company with deeper insight into its product needs, which proves to be a win/ win competitive advantage. "In addition to seeking to expand relationships with our existing customers, our strategy is to pursue new customers across multiple end markets and diversify our customer base by focusing on leading global companies and their EMS providers and distributors," he says.
"We serve over 50,000 customers worldwide. Although some of these customers are direct, the majority or our customers are served through our more than 50 distributors.
INTERNAL COMMUNICATION AND COLLABORATION
Keeping a massive Company nimble requires a high degree of clear communication and a shared understanding of both long and short-term goals.
"We have different facilities and business groups in different geographies," he says. "We have quarterly business review with all the different business groups. We communicate at those meetings."
Diode's top team managers for each area also meet quarterly to set short-term objectives for the quarter ahead. In addition, they hold a management conference that each site manager attends.
"I always go for my daily walk around the neighborhood. This gives me the opportunity to think about my work at Diodes with greater clarity. It has proved invaluable to me in relation to formulating the company's strategic plans."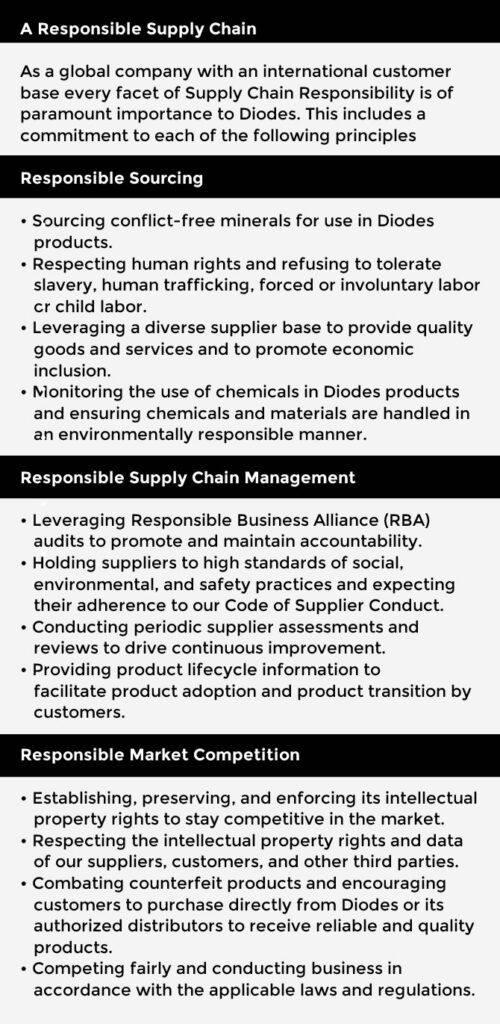 "Many times, it will be face-to-face," Dr. Lu says. "Some need to be online. We couldn't meet in person because of Covid, but the last time we met. We were able to hold a face-to-face meeting."
Diodes holds two annual management conferences: one in the summer where key managers discuss, and agree upon, long-term strategy. The other management conference occurs in December, and managers discuss the annual plan and the critical goals to be accomplished in the coming year. When it comes to strategic planning, Diodes' definition of the 'long term' is three years. The managers revisit that three-year strategy annually.
"So basically, you can see we are working on a three-year plan that we are reviewing every year and also working on quarterly plans," he says. "That method improves a lot of communication. Managers can help each other and listen to each other, to move forward. When all the managers in The company know the direction and what we should do, It creates a high level of operational efficiency."
In turn, Diodes holds its managers accountable for setting clear expectations and goals with their teams, providing coaching, and identifying professional development opportunities that will elevate and motivate its workforce. The company considers its employees its most critical asset and has an open-door policy that encourages two-way communication. In the end, Dr. Lu credits the success of Diodes Incorporated to the outstanding execution of the team. "What sets us apart is how we think and our consistent performance. We are unique," he says. With impressive earnings, a motivated team, and the world opening up again, Dr. Lu and his team at Diodes are looking ahead with optimism.
"Our expanded manufacturing footprint is serving as a key advantage providing us both internal and external capacity to support the increasing demand that we are seeing for our products."