Under the leadership of CEO Michel-Alain Proch, Atos provides the latest technology to empower clients and innovate.
When Michel-Alain Proch was appointed to the role of Senior Executive Vice President and Chief Executive Officer of North American Operations for the global IT services corporation Atos S.E. in February 2015, he viewed it as both a huge honor and a major challenge. While it had a strong leadership position in digital services in Europe, Atos was only a top 10 service provider in the U.S., and his goal was to establish the company as a major player.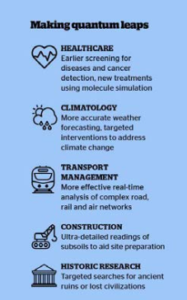 Over the past three years, during Proch's tenure, Atos multiplied its revenue in the U.S. by more than four times, and the company is now recognized as a Top Five IT services and digital transformation leader, offering a wide range of digital and IT services with an expertise in cloud computing, Big Data, artificial intelligence, high performance computing, cybersecurity, digital payments, and unified communications. The Group currently counts more than 100,000 employees and operates in 72 countries.
"The development of an Orchestrated Hybrid Cloud offering has been at the core of Atos' expansion in the U.S., providing the foundation for successful and sustainable digital transformation to our customers," Proch explained.
"This is what really paved the way for the development of the Group in the U.S."
The Cloud drove the overall progression of the company with high-profile sales to both private companies and public administrations, such as Monsanto and the Texas Department of Information Resources (DIR).
Last year, Atos posted global revenue of $15.5 billion, with $2.6 billion revenue in North American Operations alone, figures also fueled by acquisitions and an increasing number of valuable strategic partnerships.
After three years leading North American Operations, Proch took up a new position as SE- VP & Group Chief Digital Officer in February 2018 and was replaced by Patrick Adiba, formerly Group Chief Commercial Officer. Adiba is currently based in Dallas, and Proch in New York.
"Ten years ago, Atos' revenue was $5 billion per year. Today, the Group is generating $15 billion, so we've just about more than tripled our size under the leadership of our Chairman and CEO, Thierry Breton," Proch explained. "As for North America, we still have huge room to expand in the United States, Canada, and Mexico. Historically, we've been a very large player in infrastructure and workplace services. Today, we are expanding in the areas of Big Data and cybersecurity, and we will continue to grow our Business Platform and Systems Division."
Cutting edge technology
Atos showed the world it was at the very forefront of IT, automation, and digital services when it unveiled its Quantum Learning Machine (QLM), a creation that represents the absolute cutting edge of computing, in July 2017.
The first unit was sold to Oak Ridge Laboratories, which works with the U.S. Department of Energy, last November, for the advancement of new applications to enable the research and development of new energy solutions.
The QLM, which is based on a universal programming language, is currently the highest performing quantum simulator in the world. "Quantum computing is the next revolution in high-performance computing and the QLM is a simulator of a quantum computer that can be used by government agencies and very large corporations," Proch detailed.
"There are currently only ve or six quantum computers in the world as they cost around $20 million to build. Basically, the QLM imitates what the quantum computer will eventually become, at a much more affordable cost."
In addition, Atos has developed a complete portfolio of data analytics solutions, bringing together the Internet of Things (IoT), artificial intelligence, and High Performance Computing, named Atos Codex. As a result of this technology, the company is able to deliver diverse services to its clients such as proactive fraudulent behavior detection, grid energy storage, and predictive maintenance of infrastructures and facilities.
The importance of collaboration
Atos has also forged a range of large and long-term partnerships both in North America and globally in recent years.
Siemens, for example, has proven to be one of Atos' closest allies, becoming not only a key customer, but also a commercial partner and the company's largest shareholder. Furthermore, along with DellEMC, VMware, and the Dell Technologies federation, Atos recently formed the "Enhanced Alliance" partnership, which functions not only as a joint go-to-market initiative, enabling them to serve common clients, but also makes investments in R&D.
"In North America, we are also constantly looking for new collaborations with industry experts that can bring disruptive technologies to the industry, and in this we have formed two really important partnerships," Proch said.
"One is with a company called ClickFox, which is very well- known in the financial sector, providing data analytics to its clients, and another called Apprenda, whose unique technology enables the transfer of legacy applications directly to the Cloud." Another key partner for Atos in North America has been Hitachi Vantara, formerly Hitachi Data Systems, a data storage vendor and software and services provider based in Santa Clara, California.
The partnership has enabled the productive combination of the consulting, Business & Platform Solutions, and Infrastructure & Data Management capability of Atos S.E. in the non-cloud space with the high performance and reliable IT infrastructure of its partner.
"For more than ten years, Hitachi Vantara and Atos have successfully partnered to help customers transform their businesses and realize the power of their data," said Barry Morrison, Senior VP and General Manager for Hitachi Vantara in the Americas.
"Today, we are strategically aligned on what's next: combining storage, compute, advanced analytics and IoT solutions to enable customers to achieve richer levels of insight and competitive advantage."
Atos has also been working to boost its collaborative culture internally. The Group is currently promoting the use of an increasing number of digital tools within a series of new regional headquarters throughout North America. Last June, the company unveiled a new facility in Dallas Fort-Worth, Texas, which has simplified the integration of many different groups of employees with the goal of maximizing productivity of its workforce, while also attracting the talents of tomorrow.
"On one hand, we provide the latest technology to our employees, as we want to empower them to be able to innovate," he said. "On the other hand, we offer hands-on experience with the latest Atos innovations to our clients. This is how we are building for the future."