For Core & Main, the challenge is to become the real conduit between suppliers and customers. Under CEO Steve LeClair, the recently independent company is ready for another year of record results thanks to an authentic approach to the water crisis.
America's drinking water infrastructure consists of approximately 2.2 million miles of underground pipes that were designed and installed often more than four decades ago and in some cases 100 years ago. People often don't think about aging water infrastructure because unlike roads and bridges, pipes, meters and valves are mostly underground. Recently, the U.S. received a C- in the drinking-water category of the most recent report from the American Society for Civil Engineers (ASCE) in 2021.
ASCE estimates approximately 240,000 water main breaks occur each year, creating a loss of more than 2 trillion gallons of treated drinking water annually. Additionally, a water main somewhere in the U.S. breaks every two minutes resulting in another 6 billion gallons of treated water lost every day across the nation. Finally, the U.S. Environmental Protection Agency (EPA) estimates that between 23,000 and 75,000 sanitary sewer overflow events occur each year. The sewer overflows create extremely costly and sometimes dangerous water issues.
The state of water infrastructure today represents a great growth opportunity for a specialized distributor like Core & Main, a U.S. distributor of water, sewer and fire protection products. Headquartered in St Louis, Missouri, the company is working to produce another year of record results under CEO Steve LeClair.
CORE & MAIN fights water crisis
Core & Main was established in 2017, built on the foundation of 80+ legacy companies. They are a leading specialized distributor of water, wastewater, storm drainage and fire protection products, and related services. The company's products are integral to building, repairing and maintaining water and wastewater systems. They serve as part of basic municipal infrastructure required to support population and economic growth including residential and commercial construction.
The company knows that taking advantage of their national presence and local insight is a key to being a leader in the massive water infrastructure industry.
"We see the aging that water infrastructure is undergoing and the underinvestment that has happened for the last decade. And now you throw in climate change and all the droughts and floods, those are key elements today," Core & Main CEO Steve LeClair told CEO North America in an exclusive interview.
A CRUCIAL CHALLENGE
Most citizens remember the Flint, Michigan, water crisis of 2015, but few realize that in 2019, more than 30 million Americans lived in areas where water systems could not meet water safety standards. The companies working on this problem are all involved in providing a service that is critical to society, yet good business planning and a vision for innovation are key. "We are enabling a lot of the new product adoption out there," said LeClair, who was appointed CEO in August 2017 when Core & Main separated from HD Supply to become an independent company said. "We help our customers meet a lot of those needs and we become the real conduit between our suppliers and our customers."
LeClair remembers when, as part of HD Supply, Core & Main was only one of several divisions competing for resources and capital investment. "Now, having the ability to invest in ourselves has enabled us to accelerate those plans," he said. According to LeClair, the company serves a very fragmented customer base. Core & Main plays a key role in connecting customers to new technologies and services, and provides the necessary expertise to implement them.
"There are over 55 thousand municipalities out there and our presence with over 300 branches is incredibly instrumental. We understand a lot of the needs of those municipalities and connect those with our suppliers, who are challenged to get their products to the market. By staying on top of the latest technology like smart metering systems, AMI infrastructure or high-density polyethylene fusible pipe, the company has brought more adoption to those products into its customer base.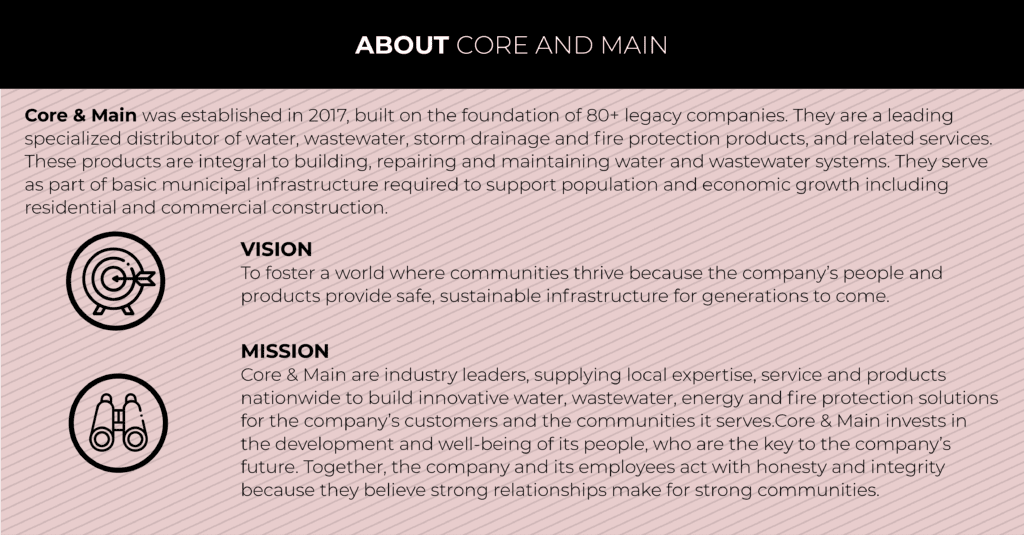 MOVING FORWARD
Core & Main net sales for the three months ended May 1, 2022 increased $543 million, or 52%, to $1,598 million compared with $1,055 million for the three months ended May 2, 2021. "We delivered an extraordinary start to FY2022, as we achieved strong growth in both net sales and Adjusted EBITDA," LeClair said. "This is the 25th consecutive quarter of average daily sales growth." He explained that inflationary pressures and supply chain challenges persisted, but the company's execution allowed them to deliver remarkable results. "The strategy that we have has been pretty consistent for the last decade," LeClair said. "I am proud of our teams across the country who continue to demonstrate resilience in a rapidly evolving environment. Although it is still early in the year, we are encouraged by current demand trends and expect Core & Main to produce another year of record results."
GROWTH PLANS AND ACQUISITIONS
According to LeClair, Core & Main is looking to grow in a couple different ways based on the presence they have in its current markets and the potential to reach new ones. "We are constantly seeking growth from an organic standpoint. What our footprint looks like, where we can expand it, where we have a good footprint today and what other products we can pull there," he said. "Those efforts help drive and secure organic growth. We put a lot of emphasis in our strategic accounts. We are looking for consistency, service, quality and access to product for the large contractors who are helping support municipalities all across the country."
Regarding M&A, LeClair highlighted how active the company has been with more than 18 acquisitions since becoming an independent business. He said that the company is continuing to look at ways to enhance its footprint either with good strategic acquisitions, a new geography, new talent, access to different products or new product categories. Just this year, Core & Main closed on the Dodson Engineered Products and Lock City Supply acquisitions and signed a definitive agreement to acquire Earthsavers Erosion Control.
"Earthsavers Erosion Control has a strong presence in their market and a loyal customer base that asks for their products by name," LeClair said after the agreement was announced. "This strategic acquisition will provide additional capacity and allow us to enhance Core & Main's erosion control expertise to further serve our customers throughout the western region of the U.S.
"We have had a number of acquisitions on erosion control geosynthetic products. That has been a really small part of our portfolio up to this point, yet very instrumental for a lot of our contractors that utilize those materials and need help to identify the specifications," said LeClair.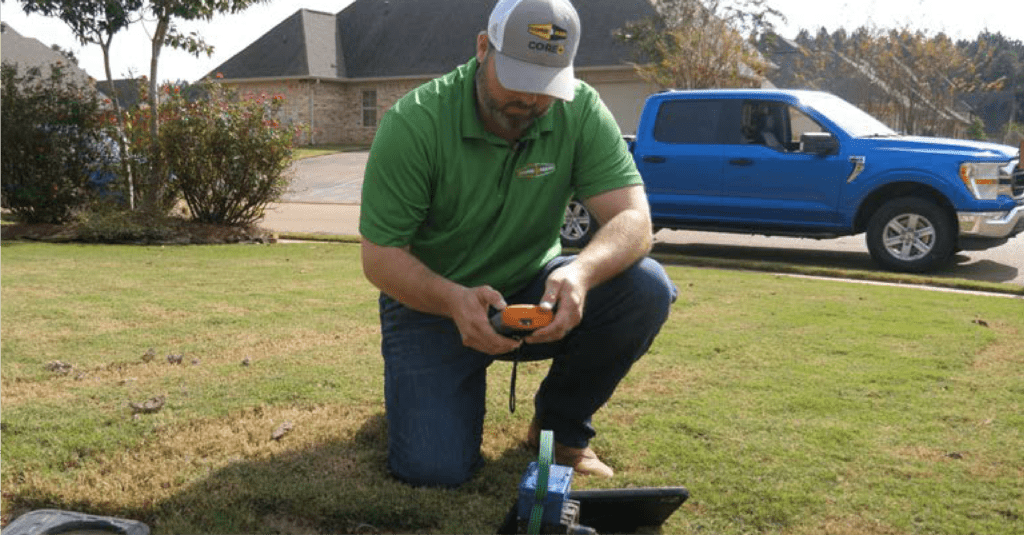 THE IMPORTANCE OF AUTONOMY
LeClair highlighted the company's ability to continue to drive margin and profitability through its network of branch leaders and partners, whom it grants considerable autonomy for maximum results and flexibility. "A unique thing we do, for a company our size, is to be very decentralized in terms of how we price products," he said. "We provide a lot of autonomy to our branch and district leaders who run their business based on the local market while at the same time we compensate based on profitability, good use of working capital, efficiency and on profit sharing to the organization."
These business partners have the ability to make market decisions like pricing certain materials and also are constantly updated on what is happening in he industry as a whole. LeClair highlighted that having local talent, service and experience supported with a nationwide presence has allowed Core & Main to do a lot of things that most of its smaller competitors are not capable of. "(There are some really) talented folks at the national level that can help manage some of the most advanced metering infrastructure projects across the country," he insisted. "A local branch might not have the expertise to do it, but at a national level we can do it in partnership with the branch." LeClair stressed the company's ability to synthetize all the information they have access to into market intelligence across the country. He believes this valuable data has been key to driving both availability of product and anticipating market shifts for customers.
STRATEGIC SUPPLIERS
LeClair said that Core & Main's significant increase in working capital is one of the top challenges for the company—both from a receivable standpoint as the business has grown, but also from an inventory standpoint, where they are taking strategic positions in different categories for inventory that has been in short supply. LeClair said that the company works with 40 to 50 "very important strategic suppliers", which are companies that have invested in new engineering products to give them even more flexibility in serving Core & Main's needs, and thus the needs of its customers. "A lot of those are highly specified products," said LeClair.
He said the Core & Main team has a knowledge of local regulatory requirements and specifications that differentiates it from competitors. The sales and operations associates understand customer-specific product and service offerings. The company maintains close relationships with key manufacturers in the industry, with access to a broad range of products, including those that a local municipality may not have previously specified. For example, Core & Main can propose products such as valves or meters that meet industry standards, giving the customer new options for reliable infrastructure.
AUTHENTIC LEADERSHIP
When asked what makes for great leadership during such trying times, LeClair was clear on his business philosophy, which he said comes down to teamwork, authenticity, and motivation. "Certainly, being a good leader means you've got to have a great team, there is no doubt about that," he said. "It's so cliché to talk about having a great team. But when you look at facing unprecedented challenges, having a team that can think on its own, that can navigate a lot of uncertainty, those are all great characteristics.One of the things that we really tried to emphasize as individual traits for good leaders is authenticity," he added. "Authenticity is in rare supply, it seems, these days. I think authentic leaders really shine and differentiate themselves. People want to work with folks that are authentic. They can sniff out insincerity so quickly now. We all can.
"When you have a leader that does care about his people, is competent and motivated and excited to lead, that comes out really clear. I think that's one of the traits, most importantly, that we look for in our leaders. In fact, something that we have as part of our performance reviews is driving authenticity and trying to measure people as best we can on how authentic they are as leaders.
Click here to read the full August – September 2022 Publication