Iranian musician Mehrzad Khajeh Amiri discusses his career and the challenges of breaking into the music industry in Iran.
By Sahar Ajdamsani
One of Iran's most successful and exciting young musicians, Mehrzad Khajeh Amiri, is breaking the mold of a traditionally conservative and closed music industry with his ventures into instrumental, New Age, and World Music.
Born Sept. 20, 1987, he studied music from the age of twelve and chose the piano as his preferred instrument, winning awards while still a teenager and eventually gaining nationwide fame.
Since then, Khajeh Amiri has gained a reputation as a genuine innovator in Iranian music, once saying, "I would like my countrymen not only to know New Age and World Music through Yanni, Richard Clayderman, and other pioneers of the style; I want to prove that an Iranian can also produce such works."
After the success of such acclaimed works as "Persian Gulf," "Hibernal Dream," and "Spring," Khajeh Amiri recorded the 2009 album Demiurge with a mix of Iranian and foreign musicians.
He says he hopes to make his next album exclusively with Irani- an musicians, thus changing the perception of what Iranian artists are capable of. In an exclusive interview with CEO North America, Mehrzad Khajeh Amiri talks about the challenges of forging a musical career in his native Iran, his desire to broaden the tastes of music fans in his country, and his hopes for the future.
Q: How easy or difficult is it to make it as a pop singer or group in Iran?
The fact is that no one can say making it in the industry is di cult or easy.
There are many people I could hold up as an example of those who have had both experiences. For example, it's difficult if an artist has neither financial support nor a group or band backing him.
In this case, he has to fully rely on his own talent and let his art speak for itself. On the other hand, it shouldn't be overlooked that there are composers breaking into the charts by momentum alone who have worked with talented singers with no expectation of financial gain, and that this collaboration has laid the foundations for the success and popularity of both parties.
That said, there are also singers without such talent who reach the heights of the industry simply by spending a lot of money or through the act of patronage.
Q: What does a singer or musician in Iran have to do to make the big time? Are there many big record labels?
It seems to me that singers do whatever it takes to become well-known, from making an album and giving concerts to performing for organizations and companies, utilizing social media, and performing at weddings.
In response to the second part of your question, I ought to say that there is no such a thing as record label in Iran. This is because, in other parts of the world, when a recorded piece of music is released, a license will be assigned to it.
This code establishes the legal rights of the performer, writer, and publisher. These rights are protected throughout the world. In Iran, this code is provided by the Ministry of Culture and Islamic Guidance, but, unfortunately, it only applies in Iran, and even then, it isn't always recognized at the national level.
Q: How do you assess the cultural and economic status of Iranian music compared to music from other countries?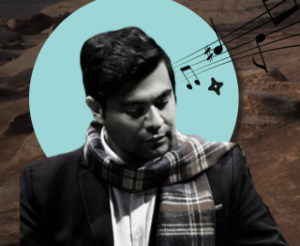 I personally think that Iranian musical culture has improved significantly over the past few years.
We have plenty of singers in Iran, each of whom has pursued their own path and adopted a distinctive musical style. And the majority of audiences, insofar as taste, choose to listen to or not listen to a song and respect artistic freedom.
Also, in terms of economic status, music can potentially be one of the most lucrative professions in Iran. The relative economic status of artists in Iran, however, goes back to your first question as to the type of financial support an artist is able to receive.
And this is the main difference between Iranian artists and those from other parts of the world. Although one sees the emergence of talented artists without money, there's no genuine meritocracy in the industry and so there are also many less talented artists who made it through money alone.
Q: What kind of musical genre do you see being most successful in Iran over the next 10 years?
From my personal standpoint, the instrumental genre will do very well in the coming years. The number of fans attracted to this genre is growing by the day.
Q: Given that you are one of the most successful New Age artists in Iran, and in view of the limitations imposed on New Age music in the country, do you think it is possible to be truly successful in this genre?
New Age music is something new in Iran, and many people are not familiar with it yet. Nevertheless, Iranians have an ear for good music and once they become familiar with a genre, they really go for it.
The reason people are listening to and accepting pop music more and more is that these genres are new and exciting to them. So, just like the pop style, I truly believe the New Age genre can find many listeners and fans, as long as there the requisite effort made by musicians, along with strong marketing and investment.
Giving concerts in this genre, especially with an orchestra, requires more support than pop because it requires more musicians and a certain amount of infrastructure.
In addition, coordinating the necessary number of musicians to perform a concert is no easy task; many musicians in Iran also work other jobs due to economic difficulties, making the organizational side difficult.
Q: As of late, there are Iranian pop artists who have achieved a high level of fame almost immediately without releasing a lot of work. What factors have led to this phenomenon and do you see this discrepancy being resolved?
It's not my place to say whether an artist who has a certain standing deserves to be there or not because that's for audiences to decide.
But generally speaking, in music, as in any other eld, there are some essential qualities necessary for success.
If an artist doesn't have those qualities, they will fade away as quickly as they appeared. In the meantime, those with genuine talent and artistic value tend to stick around.
Perhaps, along with the government and the Ministry of Culture and Islamic Guidance, the private sector could also help talented artists by organizing festivals and talent contests without the usual favoritism.
By doing so, they could enrich the culture and musical tastes of the Iranian people, as well as helping those with talent become better known and reach the position they deserve.
Q: What are your expectations for the future, for Iranian music?
I want to see good things happen in Iranian music, especially for the New Age genre in Iran, because many Iranians love the genre and listen to it passionately and mindfully.
Also, I truly believe that the media is a bridge of communication among different people around the world and can be of great help in promoting music. Maybe if Iranian artists received more international support, we could make more progress.