Equity in digital service delivery
Government agencies, striving to enable equitable digital access in the wake of pandemic-led disruptions, are focusing on investing in infrastructure, designing for user convenience, and transforming back-end operations.
The COVID-19 pandemic accelerated the shift to digital government as doctors' appointments, school lessons, and employment services, all hurriedly moved online. The move eased access for many—but made things much more difficult for others and, in fact, highlighted how deep-rooted the digital divide was and how unprepared we were to bridge it.
Schools moved online, but often, students without home internet access or their own tablets or computers were unable to access classes. Hospitals and clinics set up telehealth services, but those who lacked reliable internet connections or were unfamiliar with various website interfaces struggled to make appointments. Ensuring universal digital connectivity is just one part of the digital equity challenge.
Rickety infrastructure is another contributor. As public agencies moved to digital service delivery, constituents faced outages and difficulties tracking their applications and uploading documents and rejections due to incomplete forms. While some services and processes were already set up as digital-first, many were constructed in an analog era, with online options added as an afterthought. Unprepared online environments were suddenly forced to handle a torrent of users. The traffic on some government websites, such as unemployment benefits portals, increased exponentially in early 2020; many systems—and the staff who operated them—were unable to keep up.
Many government agencies are now aggressively trying to catch up.
But after nearly two years of trying to patch together online systems and communicate more effectively with constituents, government leaders are all too aware that even the best-in-class digital platforms cannot ensure equitable and inclusive access to services. Complicated processes and policies, antiquated systems, and inconsistent requirements—which legal scholar and government-systems specialist, Cass Sunstein, calls sludge—continue to pose hurdles. These challenges include lengthy wait times, multiple application requirements, and confusing rules, which often impart hardships on the most disadvantaged populations.
The strain of the pandemic revealed that many so-called digital government services were merely inferior online replicas of physical services. For instance, the US Temporary Assistance for Needy Families program has long allowed online applications, but even now, many states don't allow applicants to update information or track their application status online.
Governments need to relook at digitization through an equity lens to build the "digital access for all" landscape that they are aspiring to in the postpandemic world. It includes improving broader access to digital connectivity, applying human-centered design approaches to both digital and in-person environments, and developing robust digital and data infrastructure to ensure smoother operations.
Trend drivers
Digital acceleration: The pandemic prompted a quantum leap into online and digital environments, which is likely to become the new normal.
The broader equity debate: The long-simmering debate over diversity, equity, and inclusion is refocusing government energy on building equitable and accessible services for constituents.
An evolving design mindset: The shift to "digital first" requires extensive improvements in service design.
Trend in action
The Netflix series Maid, based on Stephanie Land's memoir, opened many viewers' eyes to the problem of administrative challenges.4 It's the story of 29-year-old Alex and her two-year-old daughter; she's trying to flee an abusive relationship while navigating a labyrinth of government social care systems and processes.
Many of those accustomed to frustrating interactions with government systems found the series uncomfortably familiar.5 Alex needs to show proof of income to be approved for day care vouchers but has nowhere to temporarily place her daughter if she wants to take a job. A housing voucher requires a landlord to approve and accept it.6 Government systems, however well-meaning, often saddle users with cumbersome burdens—and many pandemic-era constituents can communicate with systems and representatives only by smartphone.
Universal digital access is impossible without universal digital connectivity, improved design of digital services, and a robust and flexible digital infrastructure (figure 1).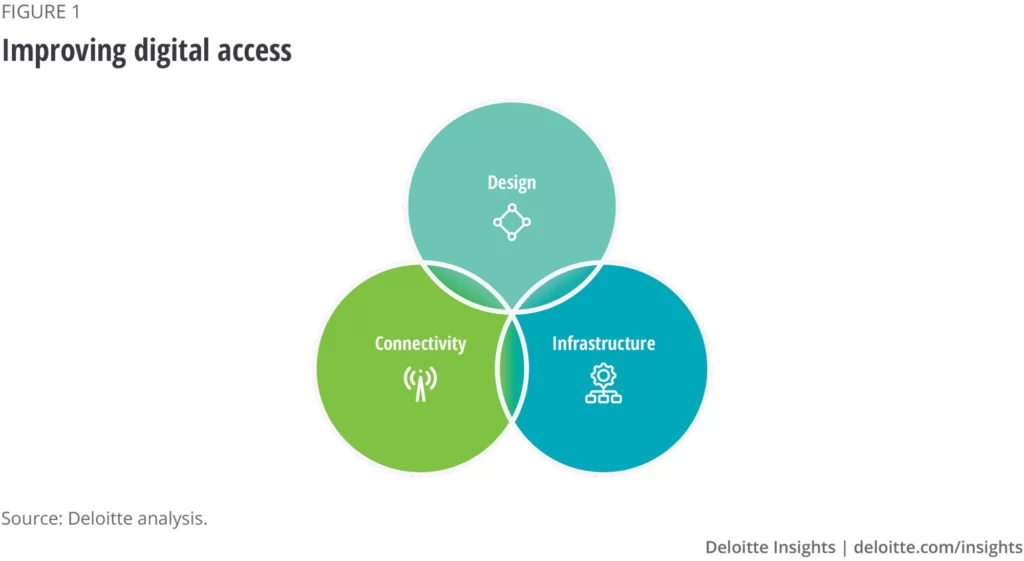 Equitable digital connectivity
Around the globe, governments are making big strides toward plugging the accessibility gap, primarily by ramping up investments in connectivity infrastructure. They are making large investments in fiber networks, creating free public Wi-Fi zones, rethinking spectrum policy and pricing, and funding digital literacy programs7 (read more in "Closing the digital divide"8).
The US Congress recently passed the US$1 trillion Infrastructure Investment and Jobs Act to boost public infrastructure spending (see figure 2), including a US$65-billion broadband expansion focusing on digital equity, rural broadband, middle-mile infrastructure, and affordability.9
https://www2.deloitte.com/content/dam/insights/articles/us175193_cgi_gov't-trends-digital-access-for-all/figures/US175193_Figure2.jpg
Seattle has led significant efforts toward technology access and adoption. In 2017, the city began providing grants to nonprofits for digital literacy skills training programs, affordable devices, and low-cost internet options.10 In 2021, it funded 15 projects with a total of US$480,000, including a technology loan program for older adults and laptop donations to underserved communities.
Rural areas represent a particularly difficult challenge for reliable high-speed internet. In 2012, India launched a National Optical Fiber Network project to connect 250,000 villages, ensuring a minimum speed of 100 megabits per second (Mbps), at an estimated expense of US$8.24 billion.More than 180,000 villages have been covered so far.
Since it often makes little economic sense for private internet service providers to build infrastructure in rural markets, agencies and nonprofits are working to establish decentralized, community-driven networks. In Uganda, for example, the nonprofit Battery-Operated System for Community Outreach (BOSCO) converts bandwidth from fiber optics to wireless and transmits it through a small network of 13 towers to rural communities up to 90 kilometers away, powering its equipment with solar energy. BOSCO operates 55 community centers, serving nearly 60,000 residents.
Such innovations, as well as wireless technologies such as satellite-based internet, can improve access in hard-to-reach geographical areas. In 2020, the nonprofit Internet Society reported more than two dozen new and existing community networks around the world in regions including Argentina, the Galapagos Islands, Ethiopia, Georgia, Ghana, Nigeria, Uganda, and Zimbabwe. Governments realize rural connectivity is a priority, but there is still more to do in this area.
Designing services for equitable access
Many government processes seem to be designed for their operators' ease of use rather than for constituents'. This is not surprising, as staffers interact with the systems daily, while users pop in only occasionally—to file for unemployment insurance or apply for a passport, for instance. But, as the UK National Health Service website lead designer, Dean Vipond, says, "Working at speed is no excuse for cutting corners with usability and accessibility of a project." Making these services truly user-friendly—particularly for those who lack digital literacy or high-speed access—requires a dramatic shift in service design.
Consider the United States' Earned Income Tax Credit (EITC) program. For nearly 50 years, it has been a particularly effective antipoverty program, lifting nearly 5.6 million people out of poverty in 2018 alone. But more than a fifth of eligible taxpayers failed to file EITC claims in 2018; most of them belonged to low-income, less-educated, and non-English-speaking households.
The IRS has altered the program many times over the years to make it easier for taxpayers to use, but millions who could claim the credit still haven't. To identify hindrances to usage, New America's New Practice Lab partnered with the New York Department of Taxation and Finance. Using human-centered design principles, they identified barriers such as limited knowledge of the credit, a high dependency on tax prep software or professionals, and the perception that inquiries from the IRS could constitute an audit. The New Practice Lab suggested simple tweaks: add clear language in communications with recipients, improve the formatting and fonts used in forms, customize letters for various taxpayer groups, and offer forms in more locally spoken languages.
Australia's Queensland government has created a plethora of human-centered design toolkits and resources for agencies, including guides for in-depth interviews, concept cards, and customer journey map templates. This journey-mapping tool helped the Department of Housing and Public Works visually map services—such as computers, meeting rooms, and children's play areas—that a public housing office should provide. In addition, the Customer and Digital Group within Queensland's Department of Communities, Housing and Digital Economy offers Queensland employees a free, two-day workshop on human-centered design.
Digital infrastructure that supports broad access
Governments are also looking to improve access by transforming back-end operations and associated digital infrastructure. A unique digital ID system(see the sidebar, "India's Aadhaar digital ecosystem"), for instance, can integrate client information across dozens of government systems. This, along with data-sharing, can reduce administrative challenges and enable the "once only" principle of human-centered design, where citizens and businesses need to provide information just once to access multiple government services.
Germany's Refugee Digitization System, launched in 2016 to handle the arrival of more than a million refugees, collects relevant data (along with fingerprints as a legal identifier) at the first contact with a state agency and stores it in a central system. This system enables access to multiple services across government agencies, including housing, food assistance, and health care.
Moving forward
Begin with equity impact assessments (EIAs), which examine how policies and processes disenfranchise and discriminate against particular groups or communities. They can also be used to assess implicit and explicit biases in government programs.
Develop a design mindset. Service design and empathetic, human-centered design should be an important part of creating new services or reimagining existing ones. Agencies should develop these skills within their teams to understand user challenges and remove roadblocks to access.
Promote community engagement. Obtain the input of stakeholders representing marginalized and underserved communities. Develop strategies to promote inclusive community engagement and pilot their use among select departments: service, infrastructure, and planning.30
Use an omnichannel approach to ensure digital equity. Government leaders can improve digital access by focusing on availability, affordability, and adoption, but digital-first doesn't mean digital-only—leaders should also consider how services can be delivered offline or in-person.
(Courtesy Deloitte. By Michele Causey, United States. Mahesh Kelkar, India. Arindam Guha, India. Mohamed Malouche, Tunisia)