With borders open and travel restrictions lifted in many locations, international travel is on the rise. As we look toward 2023, targeting international travelers presents a strong opportunity. One sector of travelers making a big return, and increasing their budgets, is families. This means it's more important than ever to understand what families care about when traveling in order to effectively connect.
The growth of international travel
Data from the 2023 Traveler Value Index shows that the desire to travel internationally is on the rise. Almost half of consumers are likely to book or have booked an international trip for the next 12 months, up from about 30% in December of 2021. Millennials are even more likely to travel internationally, with 60% saying they are planning a trip or have booked.
While top travel destinations for 2021 were almost all within travelers' own regions, data from Q3 2022 shows that international destinations are making a strong return. International travel is likely to continue to ramp up in 2023, as consumers continue to be more confident in going farther out.
Families are returning to international travel
One sector of travelers that is important is the return of international travel is families. With families spending 25% more per booking than other travelers, they are an impactful group for our industry.
During the pandemic, the proportion of families traveling internationally declined compared to other traveler groups. However, Q2 data showed that international family travel has recovered to pre-pandemic levels, and now accounts for the same proportion of travelers as 2019, about 15%.
Data from Q3 brought even stronger news, with international family travel growing by 90% year-over-year. The top international destinations for family travel stretched across a broad variety, from major cities and cultural capitals to beach and adventure destinations.

The appetite for families traveling internationally does not seem to be slowing. Traveler Value Index data shows that consumers with children are more likely to be traveling internationally than average, with 58% planning a trip abroad in the next 12 months.
With this return to international travel, families are also increasing their travel budgets – 51% of consumers with children said they would be increasing their travel spend in the coming year, compared to the average of 43%.
What do families value when traveling?
In order to effectively take advantage of the strong international family travel demand and increased budgets, it's essential to understand what family travelers are looking for. According to data from our Traveler Value Index, parents are most likely to choose an experience, tour, or activity when deciding on their next trip.
However, when asked what has become more important in their travel decisions since the start of the pandemic, parents said the physical and/or mental health benefits of travel and making up for lost time with family/friends has increased in importance. So, while parents seek trips where their families can have experiences and activities, they also hope to get in some relaxation and family connection.
Another important aspect that parents are looking for when booking travel is sustainable options. Our Sustainable Travel Study shows that 94% of parents look for sustainable options when traveling, higher than the average of 90%. And they're looking for inclusive travel options. Our Inclusive Travel Insights Report shows that 76% of parents would choose a travel option that is more inclusive to all types of travelers, even if it's more expensive. In order to connect with parents, it's important to display sustainable and inclusive policies and options in promotions and messaging.
How Gen Alphas contribute to travel decision making?
While understanding parents' preferences is valuable, they are not the only decision makers when it comes to family travel. For most families, planning is collaborative, so it's important to appeal to both the parents and children, including even the youngest generation, Generation Alpha.
Data from our Gen Alpha & Family Travel Trends study shows that nearly 9 in 10 respondents said planning a trip together can be fun for the entire family. Additionally, 67% said that travel ideas come from the children or both children and adults when planning trips.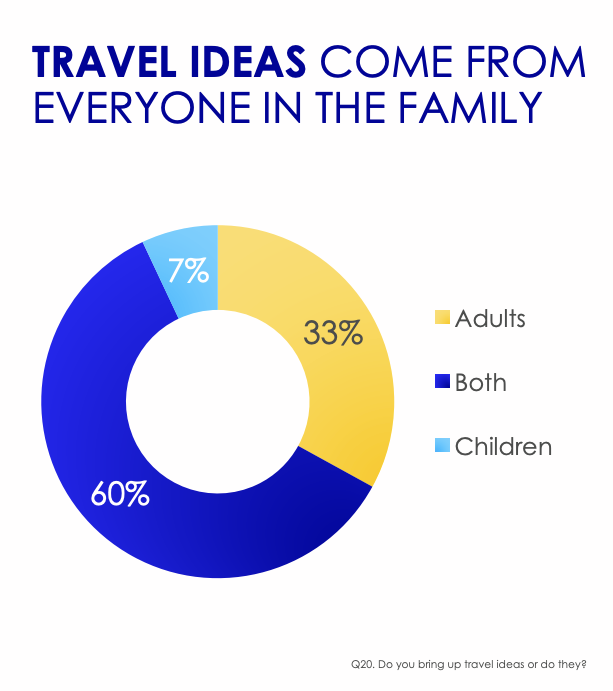 Targeting the family traveler through innovative campaigns
One key to connecting with family travelers is through creative inspiration. Our Gen Alpha & Family Travel Trends study showed that 7 in 10 travelers are open to inspiration when planning a family trip, meaning that there is a strong opportunity for travel brands to reach and inspire families through various marketing initiatives.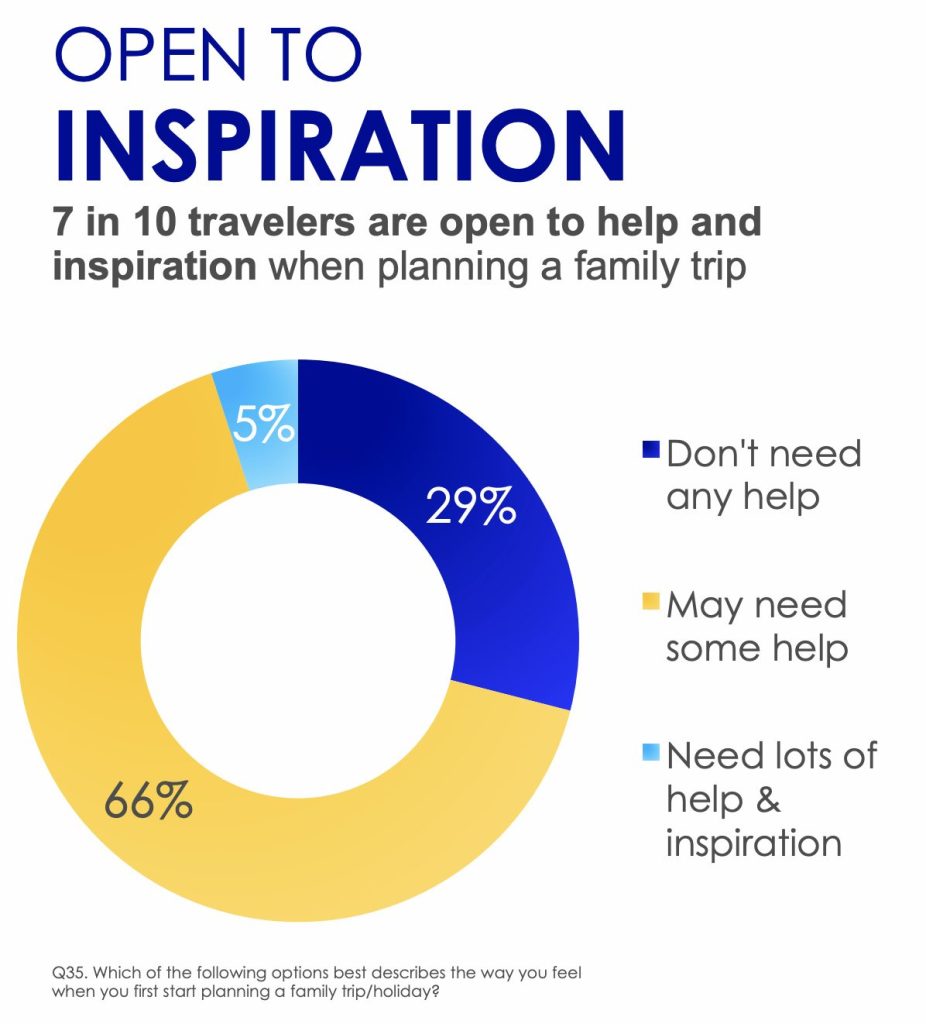 Generation Alpha, born since 2010, may be young, but our findings indicate that they already play an active role in family travel inspiration and planning; influencing trip decisions for the entire family.
Courtesy Expedia Group. By Ana Paradela. Article available here.