Marilyn Monroe painting by Andy Warhol has been auctioned for $195 million, making it the most expensive piece of 20th Century art ever sold and also the highest ever paid for an American work of art.
Created after the film star's death two years earlier, "Shot Sage Blue Marilyn" was painted by Warhol in 1964 using a photograph as inspiration. The Christie's auction in New York ended with a sale price of $170m, which rose to $195m after taxes and fees.
"Shot Sage Blue Marilyn is the absolute pinnacle of American pop," Alex Rotter, chairman of 20th and 21st century art at Christie's, said. "The painting transcends the genre of portraiture, superseding 20th century art and culture."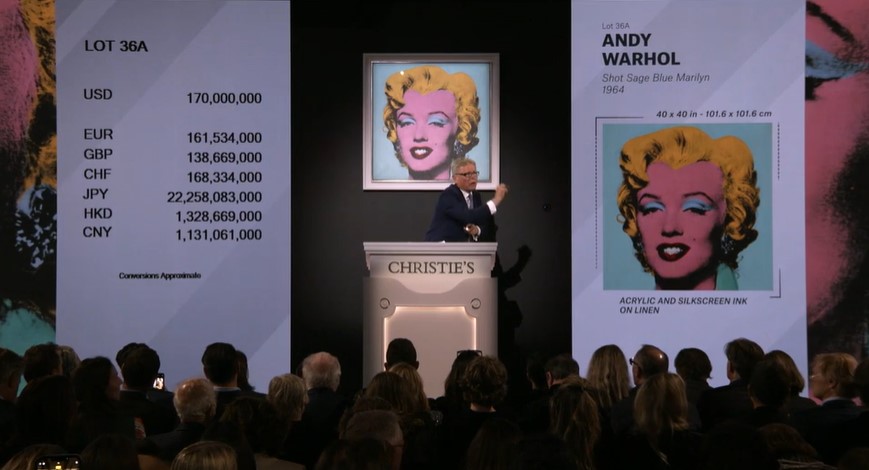 The painting is based on a promotional photo of Monroe from the 1953 film Niagara. The title refers to a bizarre incident in which a woman asked to "shoot" the paintings that were stored in Warhol's studio The Factory.
Instead of using a camera, the "shooter" used a pistol damaging all four pieces that were later restored.
After the auction, Philip Hoffman, the founder of New York-based advisory company the Fine Art Group, told the New York Times that there is a huge amount of pent-up demand for art. "Everybody was waiting for the right moment, and the right moment has come."
The previous record price for a piece of American artwork was $110.5m for a skull painting created in 1982 by Jean-Michael Basquiat.
Previous record for a 20th Century work of art was set in 2015 when 1955's Pablo Picasso – Les Femmes d'Alger (Version O) – was sold for $179.4m, including fees.
According to the Wall Street Journal the record sale kicked off New York's major spring auctions and underscored the global strength of the high-end art market at a time of volatility and uncertainty in financial markets.
Ahead of the auction, Christie's wrote that the painting is "one of the rarest and most transcendent images in existence". The winning bidder was identified as art dealer Larry Gagosian.