Video games have rapidly turned into the biggest entertainment industry in the United States based on consumer spending.
Video games are not child's play, they're actually one of the nation's fastest growing economic sectors, providing more than 220,000 jobs in communities across all 50 states.
There are currently 150 million Americans playing video games, making video games the biggest entertainment industry in the United States based on consumer spending.
According to the Entertainment Software Association, the U.S. video game industry generated a record $43.4 billion in revenue in 2018, up 18% from 2017, proving its growth in mainstream American culture.
Americans spent a total of $35.8 billion on video game content (i.e. software, in-game purchases and subscription); home-video equipment was the second largest market, with revenue soaring over $23 billion; cinema collected an $11.9 billion total, while music topped over $9 billion.
[ihc-hide-content ihc_mb_type="show" ihc_mb_who="3,4,5,6″ ihc_mb_template="3″ ]
Today, more than 500 colleges and universities across 46 states offer programs or degrees related to video games, and employment in the video game industry has grown at an annual rate of 2.9%, more than double the rate of the U.S. job market.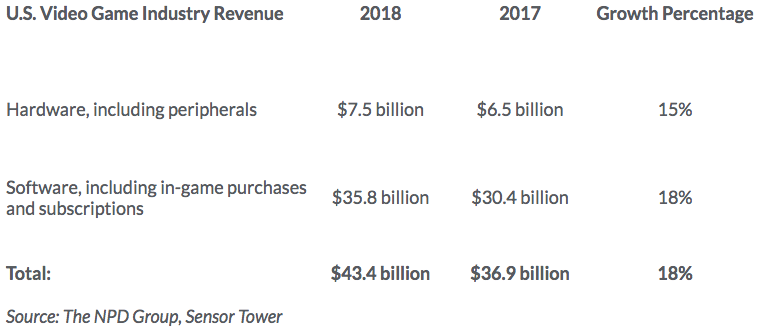 Gaming platforms
Whether it's playing on a mobile device or at home on a PC or console, consumers of all ages have embraces gaming.
A survey conducted by UBM, the company behind the annual Game Developers Conference, studied which gaming platforms are currently getting the most support from game developers.
Unsurprisingly, PC remains as the frontrunner with respect to developer support. 66% of the roughly 4,000 developers surveyed by UBM are currently working on a game that will be released on PCs. Moreover, 60% of the survey respondents consider PCs one of the most interesting gaming platforms.
Nintendo's popular new hybrid console, the Switch, is also enjoying a lot of developer interest this year, beating even the aforementioned PlayStation 4. However, according to Statista, probably due to its smaller installed base, fewer developers are already working on games for the Switch.
38% of the survey respondents are currently working on mobile games, while 33% consider mobile to be one of the most exciting platforms to work on in 2019.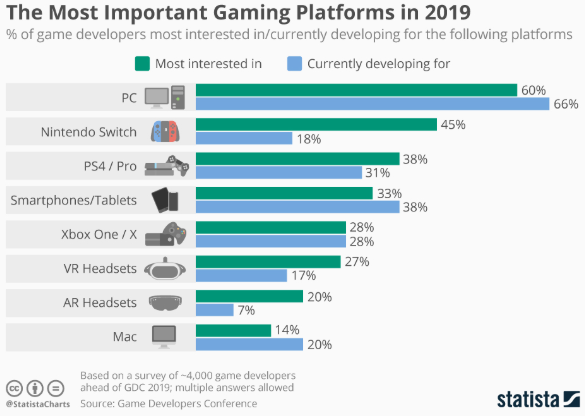 A different target
Video games are neither male-dominated or only for children.
Most people think of gamers as Xbox-obsessed teenagers, but it turns out that mobile is by far the more popular place to play. According to recent data from the Entertainment Software Association (ESA) report, 45% of all gamers in the United States are female, while the average gamer is 34 years old.
The average male video game player in the U.S., according to ESA, is 32 years old, while the average female player is even older (36), proving that since prime time commercialization for video games in the 1970s, the industry has been remarkable at renewing itself, as 60% of Americans play video games on a daily basis today.
Mobile gamers, on the other hand, make up 88.8% of digital gamers, and span all ages. By the end of 2019, 147.8 million people in the US are expected play mobile games, according to eMarketer estimates, compared to 91 million digital console players.
After surveying 4,000 American households and the heads of and most frequent gamers within each household about their video game playing habits and attitudes, 42% of responders said they play with friends, 19% do so with family, 17% do it with parents, and 16% play with their spouse.
Lexi Sydow, marketing insights manager at App Annie, said regarding the future of gaming: "You don't have to have experienced strategy multiplayer games anymore, and that idea will continue and turn everyone into a gamer."
[/ihc-hide-content]