For chairman Brad S. Karp, Paul, Weiss is one of the top law firms in the world, but it can be the best.
When Brad S. Karp became Chair of leading international law firm Paul, Weiss in 2008, he took over a firm that had a strong brand and deep talent. Yet Karp believed that the firm could become stronger still by sharpening its strategic focus.
He aimed to make Paul, Weiss the leading law firm in the world by investing in and becoming the market leader in five key practice areas; focusing on the firm's core clients and cross-selling the firm's market-leading capabilities; embracing innovation, such as AI and data analytics; recommitting to the firm's unique culture and core values, and developing strategic partnerships around the world.
The firm's extraordinary performance over the past decade confirms the wisdom of Karp's strategic vision.
"When I became Chair, we had an extraordinary reputation in the areas of litigation and white-collar regulatory defense, but I believed that, with some key investments, we could develop market-leading practices in public M&A, private equity, and restructuring, and that these five practices would collectively drive our firm's sustained success. I also believed strongly that it was critical for us to resist the then-prevailing impulse to be all things to all clients in all jurisdictions."
Paul, Weiss, Rifkind, Wharton & Garrison LLP (better known as Paul, Weiss) is an international law firm headquartered in New York City. In addition to its Manhattan headquarters, Paul, Weiss has offices in Washington, D.C., Wilmington, Delaware, Toronto, London, Tokyo, Beijing, and Hong Kong.
In 2017, the firm posted its tenth straight year of revenue growth, with revenues exceeding $1.3 billion, and its tenth consecutive year of profit growth, with annual profits per partner of $4.6 million.
Beyond doubling the firm's revenues and profits over the past decade, which coincided with the financial crisis, the firm has tripled its pro bono hours under Karp's leadership. No other law firm in the world can match Paul, Weiss's success, across these objective metrics.
"Complacency is not an option, obviously. Competition for both talent and high-end client work has become fierce. And technology is changing every industry at warp speed and the legal industry is certainly not immune from these forces," Karp observed, reflecting on the challenges facing the firm. "We're focused on making smart investments that will rebound to our clients' advantage and enhance their overall experience with our firm. Our goal is to solve our clients' most complicated and important problems quickly and efficiently, over and over again, and in the process develop a reputation for excellence and, hopefully, build enduring personal and professional bonds along the way."
"By sharpening our strategic focus and embracing innovation, we can become the best."
Five focus areas
Karp identified five critical practice areas where Paul, Weiss either saw itself as a market leader or believed that, with strategic focus and targeted investments, it could become a market leader: litigation, white-collar regulatory defense, public M&A, private equity, and restructuring.
Among the recent high-profile matters the firm has handled include successfully advising Qualcomm, previously a long-time client of Cravath, Swaine & Moore, on its $117 billion offer from rival Broadcom; representing Citigroup in successfully resolving a multi-year DOJ anti-money laundering investigation; successfully resolving for the National Football League the high-profile 22,000-player concussion class action litigation, and successfully closing a $25 billion fund on behalf of Apollo Global Capital, the largest private equity fund in history.
Over the course of just one day this January, Paul, Weiss closed five public M&A transactions. In the first quarter of 2018, the firm ranked #2 in global M&A transactions by deal volume. Karp believes that these high-profile matters and successes, across market disciplines, is proof that the strategy is working.
"We're now in a position to take full advantage of the many market opportunities that present themselves in each of our five core practice areas, and we've achieved our overarching goal of representing the world's most important corporations on their most significant matters."
Karp emphasizes the importance of his partners cross-selling the firm's market-leading services to clients that often face a broad variety of legal challenges both in the US and around the globe. As Karp puts it, "Our goal is to ensure that the firm's clients touch as many practice areas and partners as possible to increase the stickiness of the relationship."
"For example, one area where I believed we could improve our performance was in more deeply and effectively servicing our leading clients. I believed we were leaving significant opportunities on the table. So one of my first goals as Chair was to ensure that our partners became fully familiar with our practice capabilities and focused on delivering the firm, not just an individual practice area, to the client. This strategic, cross-selling has been one of the major engines of our firm's growth over the past decade."
"If we're handling a litigation matter for a Fortune 100 client and that client has a subsidiary or, in the case of a private equity firm, a portfolio company that is considering a restructuring transaction, we want to make sure that we are the law firm handling the restructuring. By the same token, if that client is looking at a transformative corporate opportunity, we want to make sure that we are handling the M&A transaction. If an executive of that client becomes embroiled in an investigative or enforcement matter, we want to make sure we are defending that executive."
Collaboration and innovation
Karp believes that two key factors are crucial to executing and maintaining this growth model—collaboration and innovation. Paul, Weiss has 140 partners across the firm. Karp says that a collaborative culture is crucial to establishing a shared vision of the firm's strategic focus and implementing that strategy every day.
"Professional services firms, generally – and law firms, specifically – have a uniquely horizontal structure, making it absolutely critical for partners to operate collegially and collaboratively on all issues. Everyone at Paul, Weiss believes in transparency. We are a true, old-fashioned partnership. Our culture, values and traditions matter. Our commitment to pro bono and diversity matters. Our partnership meets weekly to make sure that everyone is on the same page and buys into the firm's strategy and vision."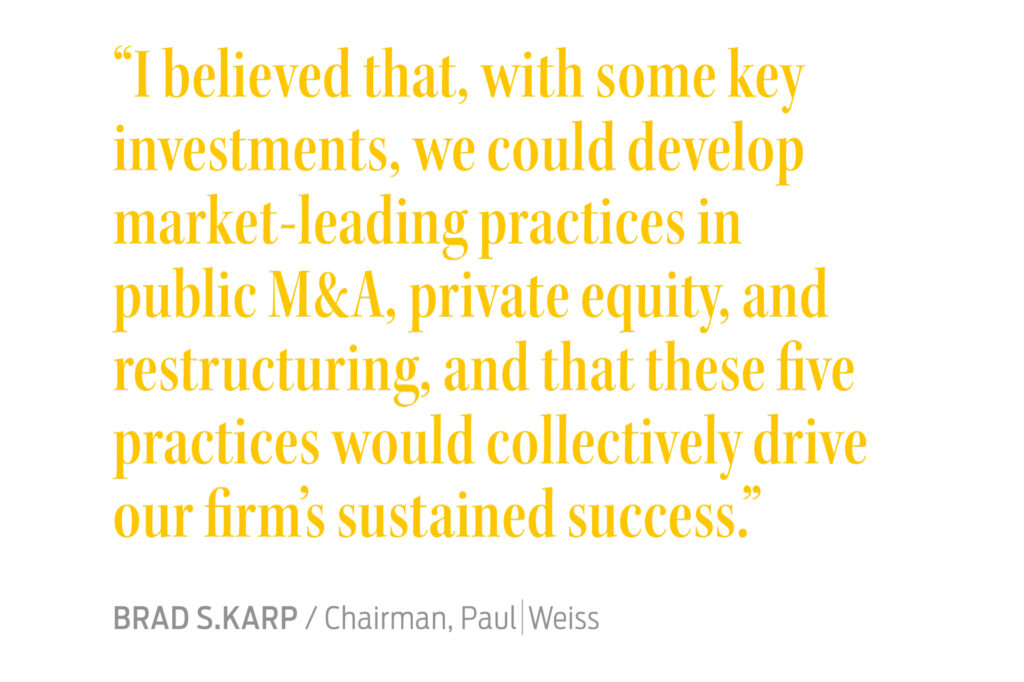 "We're acutely aware of the fact that, in today's world, law firms, like all professional services organizations, need to be able to deliver clients a compelling value proposition. We must be able to solve our clients' problems in a cost-effective manner. We approach problem-solving by listening to, and working closely with, our clients to understand their business objectives and then devise strategies to achieve those objectives efficiently. As I tell my partners, it is always about the client; it is never about us."
On the technological front, Karp described how the legal sector, like every major industry, is increasingly employing technology to function more efficiently. AI, data analytics, predictive coding, and document automation have all become crucial tools to enable Paul, Weiss to provide the very best legal representation and deliver clients a compelling value proposition.
"We have a number of different technological alliances depending on the particular issue we're trying to solve. We monitor every day the dynamic changes in technology to ensure that we are aligned with the provider that can best deliver our clients state-of-the-art solutions. Today, for example, we're focused intensely on how AI can improve our case analytics in the litigation sphere and our contract analyses in the transactional sphere. And we are taking into account these technological solutions to enable us to staff matters in the most efficient way possible to benefit our clients."
A global presence
Even though Paul, Weiss has a global presence, Karp appreciates that it cannot by itself provide services to its clients in every jurisdiction in the world. But he believes that by forming a network of extraordinary law firm relationships in different parts of the world, Paul, Weiss can provide best-in-class service to its clients across the globe. Karp believes these partnerships enable both the client and Paul, Weiss to benefit, calling the model a "win-win" situation.
"We typically work closely with a few leading firms in every major financial center around the globe. Most of these firms share opportunities with us in jurisdictions in which we have market-leading practices and we share opportunities with them in jurisdictions and practice areas in which they are market leaders. We have found this structure to work seamlessly."
Asked about the critical ingredients for success in a highly competitive and demanding industry, Karp cites several factors that have contributed to Paul, Weiss's extraordinary success over the past decade and which he believes will sustain that success in the years to come.
"Obviously, talent is critically important, but so are client service, delivering a compelling value proposition and developing, refining and executing a strategic vision that plays to the firm's strengths. And it goes without saying that results matter—and matter today more than ever before. But do not underestimate the importance of culture in today's bottom-line driven market. It's critically important that a law firm be collaborative, be professional, and that its partners be respectful and be supportive of each other. If you lose that collaborative culture, that glue, then you've lost everything and your clients will inevitably suffer in the end."